Posts from Apr 2010
Strength training for open-water swimming
Apr 09 2010
Notwithstanding this post's title, my strength training routine - which I started about 6 weeks ago - is only partly tailored for open water swimming. It's a balanced, total-body routine designed for strength, simplicity, and sustainability.
Strength means not designed for maximum muscle mass (the former helps swimming, the latter does not).
Simplicity means using only a few basic gym equipment, and that I can remember the routine easily without writing it down.
Sustainability means giving myself the best chance of consistently doing the routine over the long term. It's integrated seamlessly into my everyday life, and it's brief (no more than 30 minutes per session).
Some other principles, related to the above, include:
Doing exercises that use natural, compound movements - i.e., movements that use multiple muscles simultaneously.

A corollary of this principle is that free weights (which require stabilizing the weight yourself) are preferable to Nautilus-type machines.

Doing exercises that use my own body weight - e.g., push-ups, pull-ups, bar dips, bridges.

Body-weight exercises also tend to be natural and compound.

Doing higher repetitions (usually 3 sets of 8-12 reps), and thus lower weight. This trains my body for "endurance" strength rather than "power" strength, and also minimizes the chance of injury.
Here's the routine:
Gym Session A (chest + lower body)
push-ups
squats
deadlift
bench press
Gym Session B (back + shoulders)
pull-ups / chin-ups
overhead press
inverted row
bar dips
Core + Resistance Band Session
Core:

wheel roll-out
plank
bicycle
reverse crunch
Russian twist

Resistance Bands - 1 of the following:

"butterfly" pull
tricep extension
internal & external shoulder rotation
Schedule
Monday, Wednesday, Friday: Core + Resistance Band Session
Tuesday, Thursday, Saturday: alternate between Gym Session A & B

follow immediately with long, smooth swim workout (helps reduce soreness)

Sunday: off
Each session takes no more than 30 minutes, and involves two pieces of equipment. Session A requires a power rack and a bench. Session B requires a power rack and a dip station. The Core session requires a medicine ball and an ab wheel.
The gym sessions target a maximum number of muscles with a minimum number of exercises. The core+bands session targets "swim strength" - the core, lats, and triceps - and also incorporates an injury-preventive exercise for "swimmer's shoulder" (i.e., rotator cuff inflammation).
After 6 weeks, I can report substantial gains in strength. My performance in swim workouts has suffered, which can be frustrating - but you just have to trust that your eventual taper will have that much more upside.
Strength training and swimming: Things to consider
Apr 12 2010
A teammate asks, regarding my strength training routine:
Would you recommend something similar for me (only been swimming 1.5ish years very haphazardly), or do you think the benefits are only for those who have slowed their pool gains down significantly?
My answer: "Yes, but…."
Yes - because:
Weightlifting and calisthenics are good for you, both in promoting strength and general musculoskeletal health, and in preventing injury.

If you learn to deadlift properly, for example, you'll never throw out your back lifting a heavy box.

Getting stronger will, in general, help you swim faster. At least, a little bit faster (see next point).
But - because:
Strength training is a "low leverage" activity for improving swimming speed. The highest leverage, by far, is in swim technique.

So, unless your technique is already in the range of excellent-to-perfect (and even Olympic swimmers are constantly working on their technique), strength training is not the most efficient method of swimming faster.

My routine involves several "free weight" exercises - which are the best way to lift weights, but also potentially dangerous. In doing squats, deadlifts, overhead press, and bench press, you must use proper lifting technique, or your efforts may easily backfire. Unless you're already gym-savvy, it's a good idea to ask a trainer to watch your technique before attempting these exercises.
Ease into any new routine - no need to be a hero. If you haven't been to the gym in a while, try starting with a few body-weight exercises. Then add some resistance bands.

With free weights, start with just the bar, adding weight only when you can easily do 8-10 reps with perfect technique. Don't be distracted by the ex-football players benching 300 pounds at the next station.
Bottom line: You can swim very fast without ever setting foot in a gym (that's especially true of distance swimming). Strength training can help at the margins, but frankly, I do it more for the general health benefits.
Readying to rumble
Apr 15 2010
T-50 hours or so until the Swim Miami, the aperitif for my 2010 Open Water Season. I'll train right through most of my summer schedule, but I wouldn't dare attempt a 10K unrested. So, I'm taking the week off from weightlifting and doing 3 days of below-average swim yardage. In these last few swims I'll focus primarily on "feel," not the clock. If I can swim "effortlessly," the pace will take care of itself.
To help me build into a 10K feel, I've been doing (after a brief warm-up) a set of 12×100 LCM on descending intervals. I start with 2 on 1:45 and lower the interval by 5 seconds every 2 - so the last 2 are on 1:20.
My aim is to swim the last 2 at approximately 10K effort and speed, and to swim the first 2 no more than 5 seconds slower than the last 2. So in my case, I might swim the first 2 at 1:19 (giving me 26 seconds rest), and the last 2 at 1:15 (5 seconds rest).
Most important, my pace should descend by more than my effort. In other words, I swim faster over the course of the set not by increasing my effort, but by increasing my "effortlessness."
Distance swimmers experience this subjectively as "feel" or "rhythm." Objectively, this is a function of efficiency - in stroke technique and in energy metabolism.
By repeating the set several times this week, I can gauge the progress of my taper, and hopefully swim similar times with less effort - within each set and across the week.
Increase effortlessness, not effort
Apr 16 2010
I want to expand for a moment on the concept (discussed in the previous post) of increasing effortlessness rather than effort - within a set and over the course of a taper.
In a typical swim taper, in which athletes are preparing for events of 100 or 200m (or at most 1500m), it's common to gauge the taper's progress by monitoring pace times in practice. Over the course of a taper, a swimmer's times on "pace swims" of 50 or 100m will tend to get faster.
In races of more than 30 minutes (~1.5 miles), however, it becomes less important to hit specific pace times than it is to modulate effort. This is especially true of swims 10K and longer (2+ hours).
That's why, in preparing for tomorrow's 10K, I've focused less on swimming a faster pace, but on how much effort I'm expending to swim a given pace. That's what I mean when I say: Don't increase effort (to swim faster), but rather, increase effortlessness (to swim the same speed with less effort).
Pick a pace time - in my case, let's say 1:15 per 100m. In the middle of my training cycle, it might require 80% effort to swim a set of repeat 100s at this pace - even more with short rest. But by the end of my taper, I should be able to swim this pace relatively "effortlessly" - perhaps 65-70% effort - in other words, the effort I can maintain for the 2+ hours of a 10K.
As I've said before, if you can swim effortlessly, the pace will take care of itself.
Race Report - Swim Miami 2010
Apr 21 2010
Two weeks ago a trip to Miami was not even on my radar. Then out of the blue an old college friend (both roommate and swim team-mate) emailed me about doing a relay for the Swim Around Key West. Sadly I had another commitment that weekend, but out of curiosity I went Googling for other races in South Florida (he lives in Miami) and - lo and behold - there's a race in Miami April 17th!
Catch up with old roomie and his family? Escape from Ohio in April? Start my O.W. season 6 weeks earlier than planned? It was a no-brainer. The Nike Swim Miami was my first 10K, and it was… a useful learning experience. After a breakthrough 5K last fall at Big Shoulders in Chicago, followed by 7 months of solid training, I thought I had a reasonable chance to put down a decent time. 2:10, maybe? 2:15?
Alas, I didn't come close to either of those times. 10K is twice as far as 5K, of course - but that wasn't really the issue. I didn't even put together a decent first 5K. Actually, I fell off the pace before I was halfway around the first 2500m loop. So what happened?
But first, the venue: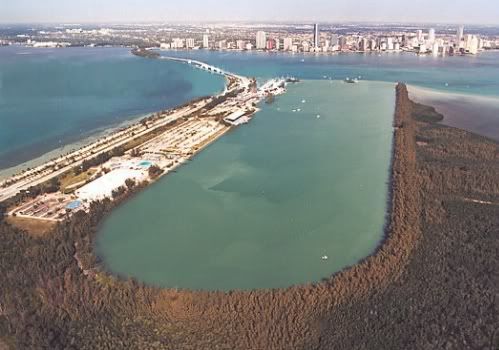 Miami Marine Stadium
In a (theoretically) protected nook of the Biscayne Bay with a direct view of the downtown skyline, the Miami Marine Stadium lends itself perfectly to Beijing-style 2.5K loop.
When we arrived that morning, the place was packed with age groupers and their parents. There were other events on the day besides the 10K, and apparently one of them was the Florida open-water Junior Olympics. We had an hour or so to kill before the pre-race briefing, so we got lubed- and sunscreened-up and stretched out a bit. I tried to scope out the race course, but it was tough to even see the buoys at the far end of the course. I thought, "I have to swim around that… four times?"
There was a small cordoned-off warm-up area about the size of a standard Olympic pool, and I swam a few "laps." The water was comfortable (mid-70s) but so murky that I couldn't see my own hand pulling beneath me. I noticed Eva Fabian and her brother warming up next to me. The big guns would be out in force today, as I'd soon find out.
N.B. photo from a different event
Funny thing about the "Marine Stadium" as a venue - the structure itself is in a state of total disrepair; I wouldn't be surprised if it's condemned (see here for some photos). An adjacent sandy beach and grass field served as the registration / vending / race briefing / spectator area.
"Where the hell is the finish?!"
One downside to the Marine Stadium's semi-isolation from the Atlantic was the water quality. As the basin is closed in on three sides, it's isolated from the typical flow of water generated by ocean currents. As a result, the water visibility was near zero. This is a problem if, like me, you use people in front of you to help navigate.
The race, in brief…
Got smoked at the start by the National Teamers. There were five of them, plus a Brazilian '08 Olympian and 2-3 others in that ballpark. Tried to keep up (stupidly) and catch someone's draft, but they were out of sight soon enough. Inevitably, halfway around the first loop I was huffing and puffing and getting passed by Masters swimmers.
An utterly broken man
Swam by myself for most of the final 8K. Didn't have any feet to follow, and the sighting (which I hadn't practiced over the winter) tired me further. Got confused by a couple rogue buoys and stray boat (!) on the back stretch of the course… probably swam an extra 500-600m over 4 laps. "Feeding station" consisted of volunteers handing out tiny cough syrup-sized cups of water and energy drink. Had to take about 10 (1 or 2 at a time) to get even a minimal feed. Unless, of course, you had a coach to hand you custom feeds (not me).
Small but vicious chop on the final 500m of each loop… swallowed a bunch of seawater… the last 7.5K was basically one long "dark phase." But I finished. 2 hours, 34 minutes, 15 seconds. Pace per 100m of 1:32 - 19 seconds/100 slower than my Big Shoulders pace! 27th overall; 2nd among Men 30-34.
Live to fight another day, I guess.